hello! my name's pan, i'm violent and english and also a blatant newbie so feel free to throw rocks and other sharp instruments at my head. after spending the intarweb equivalent of a decade stalking this poor, unsuspecting community through DARK ALLEYS, DERELICT RAT-INFESTED BUILDINGS, THE ABYSS and THE KIDDY SECTION OF MY LOCAL SWIMMING POOL, i decided to join and infect you all with leprosy fun, happiness and candifloss.

this is what you get when your friend is drunk and singing party songs at you, and you have the following instruments of doom at your disposal:
a. MS paint (you know, that extra rider of the apocalypse who wore beige cardigans and was so boring and useless they forgot to write him in
b. a golf club (has no relevance to this post whatsoever)
c. the lack of remembering what that damn uniform looks like



*NOTE: this is a lie

BEHOLD, ROY MUSTANG DOING THE HOKEY COKEY: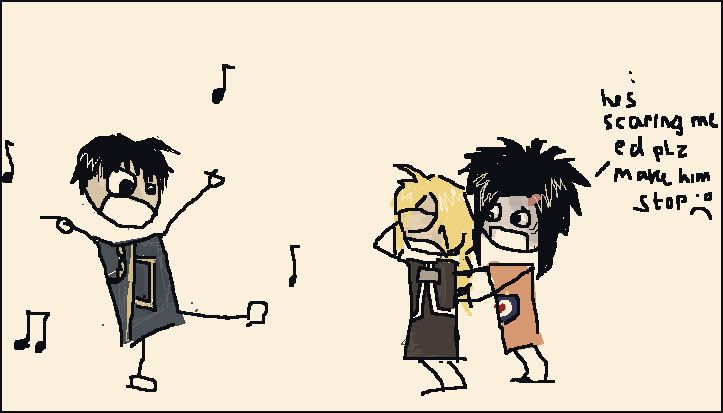 yes, the random blue person WHO DOES NOT RESEMBLE A KITCHEN UTENSIL, THNX is me, because i'm a mary sue. :D i do believe the non-british population call it the hokey pokey though, according to my wise friend. righto?


that was so pointless. serious time!
umm....choose a subject. physics/cheesecake/armstrong's ravishing torso in FMA. discuss!