There are always lots of challenges and contests available for authors and artists … and now here is one for FMA readers!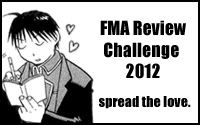 fma_review
is a reading review challenge aimed to inspire more readers to leave reviews on the stories they enjoy. Our first monthly challenge will run for the month of January 2012 with sign ups beginning December 15th. There will not be a challenge every month, though there will be a few throughout the year. There will also be a yearly challenge for reviews in 2012.
To learn more about
fma_review
, please check out the guidelines post
HERE
.
_______
ALSO, ALSO!!!
We need stories to review! Whether or not you decide to participate in this challenge, we welcome you to refer our readers to your favorite stories!
To add to the Recommendation list, please visit THIS POST.
_______
…and while I'm here:
Round Two will begin January 1st, but there are still quite a few things happening now. If you are a fan of yaoi or yuri, you should check out
fma_slashfest
.