Ed:
ARGH, she got another cat! Good Lord, when will it end...it's name isn't Ling, is it?
Kitty!Al:
Brother, you'll never believe it, I found a Philospher's Stone!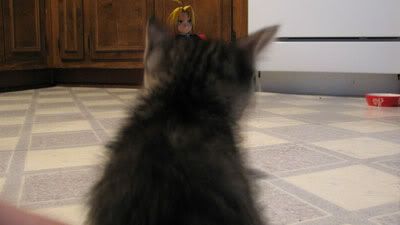 Ed:
Did...did you just talk?
Kitty!Al:
Brother it's me, Al!
Ed:
Wha...what the fuck?
Kitty!Al:
I found a Philospher's Stone under the oven! She said it was probably an old red hot candy, but I used it to perform human or vinyl transmutation and it worked! Look! I have a body now!
Ed:
Wha..what the fuck? Was I drinking? Was I smoking? Did Roy slip me more date-rape drugs again?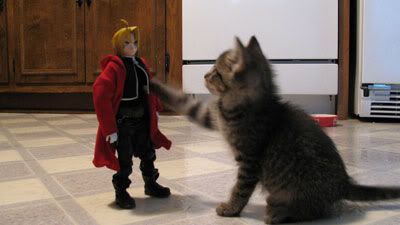 Kitty!Al:
No brother, it's me, it's really me! I can smell and touch and taste and be real again! Only, I seem to have a lot of fur, is that normal? I forget.
Ed:
I'd pinch myself but I can't move, this proves this is a nightmare and I'll soon wake up.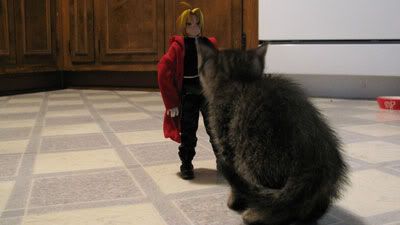 Kitty!Al:
Well, there was one thing I had to sacrifice. Let me whisper it to you...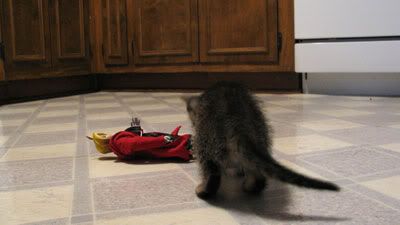 Kitty!Al:
Brother! Brother?! Did you faint? Can you hear me?
Sometime Later...
Ed:
OMG you will not believe this really fucking weird dream I had...
Roy:
HEY, check out the babe in the fur coat....
Kitten Wrangling:
sky_dark
and
hakuyama
Disapproving Looks:
Ed!Cat from under the kitchen table.
Traumatized:
Ed!Doll
Gud spelr:
sky_dark
Official Al!Kitten stats:
Dr. Lisa Wright of the Sandy Springs Animal Clinic
Stats:
Al is a GIRL
Al is about 5 WEEKS OLD
Al has a CLEAN BILL OF HEALTH
Al weighs 1.3 POUNDS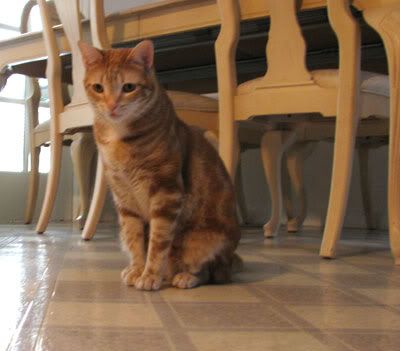 Ed!Cat:
Nostalgia is for the weak.
Not appearing in this crack:
Roy!Cat