There is something very wrong with my brain. Clearly.

And obviously I can't keep it to myself. That would be lonely.







the long-haired breed.

Kitty!Ed is now going to go keep Ostrich!Ed and Possum!Ed company.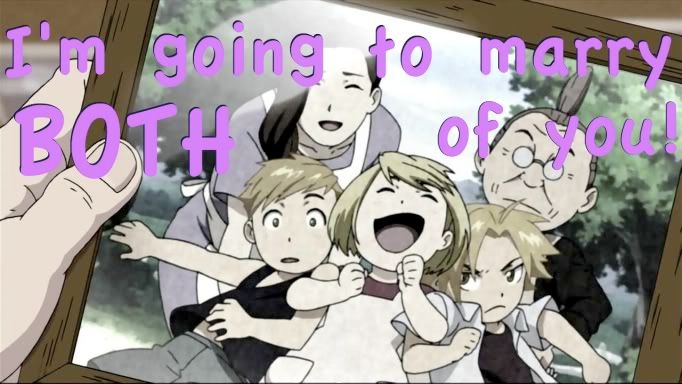 From the twisted mind that brought you Ostrich!Ed and BurningKitchen!Roy, I give you
Polygamist!Winry
I am so going to hell




I have no excuse.



TV Tropes has ruined me for life



Fear for my sanity. Fear for it!



Hint: the yellow arrow is pointing at it



Ed with his hair down! Edwithhishairdown! Edwithhishairdown! Edwithihishairdown! Ed. Hair. Down. ♥



Clearly, I have watched too much Moulin Rouge because I desperately want to make a baaaaaaaaaaaaad "talent" joke....

I'm going straight to hell



I don't even watch that show! o.O



Bil! Bill! Bill! Bill!



Edwithhishairdown! (are you noticing a theme here?)



I know, those are brain cells you will never recover.


What! Is with! These finger jokes!?!


Hmmm,
Continuation of the Animal!Ed joke: check
Bad lolcats-speech joke: check
Ed's hair joke: check

(Mmmm, Ed's hair)


Reference to other fandoms joke: check
Pull-my-finger joke: why!
Running jokes: so many

I didn't do it on purpose! I swear!

Don't forget to participate in the second caption contest and read the updated rules at
fma_caption