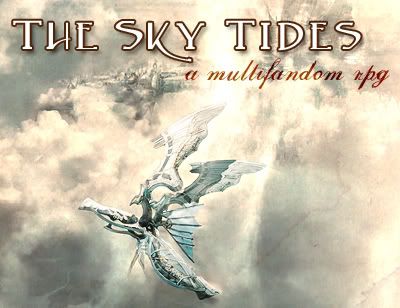 It's an age of piracy like you've never seen it before.

On the floating continent of Reial, tensions run high as two opposing countries stand on the verge of war. To the west, there's Vohemar, a land that supports so few laws that it's made a nation of cutthroats and scoundrels. To the east, there's Ivona, a refined country that remains a leader in production and technology, yet the corruption here reaches deeper than most can imagine. Some choose not to pick a side at all, and either help or hinder either side depending on their whims.

Choose a ship, declare your loyalty, and fight alongside your crew to make your dreams a reality.



theskytides: A multifandom AU game focused around airships, with a steampunk setting. Completely remade from its previous version. We now have a brand new ship with most positions available!



Game Information

GETTING STARTED
Rules ¤ Taken/Wanted ¤ Reservations ¤ Application

FACTIONS & SHIPS
Faction Information ¤ Ship Crew List

INFORMATION
FAQ ¤ Geography ¤ Glossary

CONTACT
Friends Add ¤ Pimping Code ¤ Hiatus/Mod Contact Post








Currently we only have a Winry Rockbell, a Maes Hughes, and a Greed!Ling. We would really love an Ed, Al, and Armstrong! I've been in this roleplay since the start and it's hands down the best I've ever been in.

If you have any questions, or would like to know just what's so good about it, leave me a note here. Don't want to teal dear too much~