Yes, only one. I fail so much at icons, so don't ever expect a massive pile from me like all the cool icon people post. >.>
I'm rather suprised I've never seen an animated icon of Ed's eyes in the Gate (maybe one has indeed been made, but I've never seen it...), so I decided to make one... thing is I could only grab three good screenshots of that scene, and three shots didn't make for a very good icon. So... I made my own!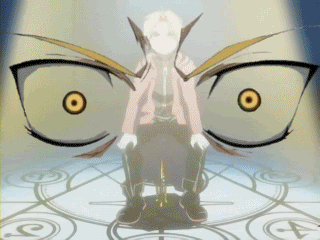 Feel free to use, I don't care about credit. XD
Current Mood:
Holy crap, I did something!
Current Music: What I've Done - Linkin Park