:D Hooray! I've returned with icons once again!

IMPORTANT: I have created a single, main post to update my Scar challenge icons to, so both of these "cuts" lead to different links! I've put a link to the other at the bottom of each page for you all, though!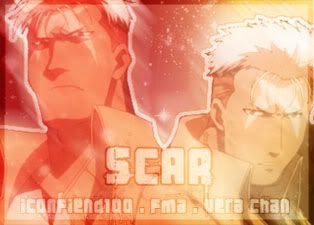 Artist:
swivelchair
Pairing/Character: Scar [Fullmetal Alchemist]
# of icons in post: 15
# of icons completed total: 43/100
Credits: Here

Teasers:





( Boom, baby. )


And 20 regular FMA icons..!!

[20] Fullmetal Alchemist
[05] Heroes
[12] Text Only

Teasers:



(
I'll look after you...
)