Can't even bring myself to finish a mostly-finished AMV. Ugh... Oh well. Watch it anyway? Purdy-please? *flops over*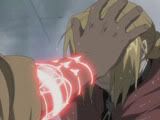 Song: Ozzy Osbourne - Shot In the Dark
Ed and Scar; diminutive alchemist, and serial killer with the powers of head explodey. Ooooo...
Incomplete. Let me know if you think I should finish this one.