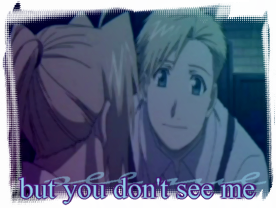 Youtube | Megaupload
Heh, I haven't been here in a while. Anyway, this here's a little video about Heiderich...and Ed...and Al. Yeah. Closest thing I'll ever get to an Alfons tribute. He does an aweful lot of talking...so a lot of shots ended up having lip syncing in them. >_<;
Anyway, the song is Künstliche Welten by Wolfsheim. I found the lyrics strangly fitting. I managed to find the lyrics and a translation. ^_^
ch komm' zu dir
Halt' deine Hand
Wir gehen gemeinsam durch dies wunderbare Land
Das ich für dich erfand
Mit mathematischen Verstand
Ref.:
Ein Wunder hier
Ein Traum gleich dort
Grad' noch hier und doch schon fort
Ich zeige dir mein Angesicht
Doch du siehst mich nicht
Ich weiß genau was dir gefällt
Ich schaff' dir eine neue Zauberwelt
In der kein Regen fällt
In der nur deine Wahrheit zählt
Ich zeig dir Berge
Zeig dir Seen
Hier brauchst du alles nur mit meinen Augen sehen
Und nicht zu verstehen
Keine Angst
du kannst ruhig mit mir gehen
In ein großes All
Ganz für dich allein
Hier kannst du endlich mal du selber sein
Im Neon-Sonnenschein
Fang ich dir deine Wünsche ein
------------------------
I come to you,
hold your hand
we go together through this wonderful land
that I created for you
with mathematical mind.
Chorus:
A miracle here equals a dream there
just here and still gone away
I show you my face
but you don't see me
I know exactly what you like
I create for you a new magical world
where no rain falls
where only your truth counts
I show you mountains,
show you lakes
here you only need to see everything with my eyes
and not to understand.
Never fear you can calmly come with me.
In a wide space
only made for you
here you finally can be yourself
in neon-sunshine
I catch you your desires.