Hi minna
Well, shortly after
~> this entry <~
, I managed to grab Bluebird´s Illusion.
Unfortunately it didn´t come with the original packaging, but who cares XDDDD
So~ of course I´ve tried to play it (weeks ago) and here is the outcome.
I just thought it wouldn´t be a bad idea to share my impressions with you :]
First of all:
I don´t understand any Chinese !! (of course XDDD) So
midnightbanshee
's guide helped me out A LOT !!!
You can find it
here
!
(*squee* I like that moodtheme XDDD)
For more information, screenshots and stuff check out:
•
midnightbanshee´s bbi guide
•
blubrdsillusion
•
Bluebird´s Illusion - the offical website
Preview: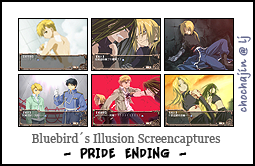 (My way through the pride ending + screenshots)
x-posted