THIS ENTRY IS TOTALLY IMPORTANT I SWAER.


In this comment thread, it was discovered that Al had a brother named Cletus IRL!! (Just ignore Ed and the 129357908346908234 other siblings at the moment.) So using my mad Google-fu skillz, I was able to locate a REAL PICTURE of the two of them together!!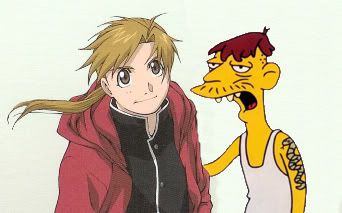 This is a REAL, REAL PICTURE OF THEM!! I totally did not take one of
chibigarm's scans and photoshop Cletus from The Simpsons into it!