Well, I was watching the news last night and they were showing the screwed up news of the day. One of them was about a penguin in Norway that had been promoted from lance corporal to colonel-in-chief. More can be found at the following websites:

http://www.2005.norway.info/event/The+Penguin+Nils+Olav+promoted+again.htm

http://www.kcra.com/slideshow/news/4866929/detail.html

So, while my brain also thought of Lance Corporal Dororo from Keroro Gunsou. I also kept thinking of Roy Mustang even though the ranks are different between Roy and Nils... I think (since I'm not familiar with military ranks). And here's what came of it!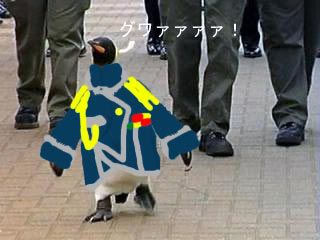 Nils, the Penguin Alchemist!