Hee, so I found some FMA skins, and my Hagaren family consists of Ed, Roy, Riza, Havoc, Hughes, Fuhrer, Gluttony, and Envy.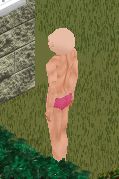 And based on the skins that they have, Roy still wears his gloves in the pool, and Ed's automail is only his hand... it the pics that I downloaded them from, it had a nekkid!Ed and a Boxers!Ed there too... though that could be on the kid size. Ah well.

Just thought it would make someone giggle, is all.