June 6th, 2008 - Fullmetal Alchemist community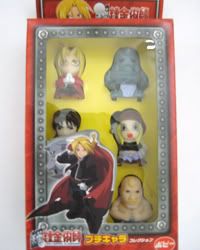 Selling:
01) Fullmetal Alchemist Finger Puppet / Mini Mascot Figurines
02) Fullmetal Alchemist Winry Rockbell Figurine
Current Mood:
I hate everything D:
Title: Feral Mustang
Author:
sapphyre_kikyo
in collaboration with
mfelizandy
Characters: Roy and Ed (Light RoyxEd mentions in later chapters)
Rating: PG-13, beware of Ed's mouth.
Author's Notes: We apologize for the wait but we have another long chapter. I'm hoping you all enjoy this chapter as we're having so much fun writing it. Please leave comments, we really love the feedback.
Previous Chapters
(
Feral Mustang
Collapse
)
Current Mood:
anxious
note: I found another fma quiz
Current Mood:
awake
Title: Moving House
Author:
sapphyre_kikyo
Pairing: RoyxEd
Rating: NC-17, warnings for fluff
Author's Note: A birthday fic for
olliegami
. She gave me the prompt of "moving".
(
Moving House
Collapse
)
Current Mood:
amused
Ed: What's with the monkey suit?
Roy: And here I thought you'd appreciate the gesture. Silly me.
Ed: I feel like I'm going out with my tax accountant.



( all dressed up and no one to do )
Current Mood:
amused
Random inspiration struck me the other day, and I drew two very different Eds.
PG, I guess?


Current Music: Impossible- shout out louds
I have a quick question for you good folks here. There's an awesome special feature included with both the final disc of the anime series and the film and I was wondering if anyone knew where I could find it to download. Any help would be much appreciated. Thank you in advance.
Current Mood:
curious
Current Music: none
I bring another Hohenheim fanart with me again! I was greatly inspired by the Queen song, "Who Wants to Live Forever", which I swear is the best song ever for Hohenheim! I'm serious, go listen to it
here
! It also helps that it was originally written for a scene in a movie where an immortal man has to watch his wife grow old and die....
Rated G, and umm, no spoilers unless Hohenheim is spoilery or something?
(
Who dares to love forever?
Collapse
)