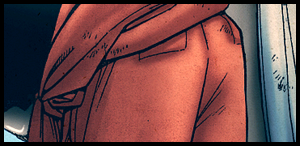 Software : Photoshop CS2
Tools : Wacom Intuos 3
Textures : Princess-of-Shadows
Time : ~3h
Original : Fullmetal Alchemist - Chapter 82, Page 01

HERE @
bear_and_book
Okay, so about 2 days ago, I was struck rather viciously by a plotbunny, and then just today I was struck again by another one. I liked both of them so much that I just HAD to draw them out!
Both are all around craaazy stories that if anyone should ever attempt to write, would probably turn out novel-sized, I think.
Rated G, and yes, there are spoilers for the movies in these drawings!
(
Collapse
)
(
Collapse
)