It's me again. D:
Fanart
; All are G. Sketches, traditional and CG.
Kingdom Hearts x 8: Anti!Sora+Riku, RoxasxNamine, Roxas(2), Riku, Sora, LeonxCloud, Kairi
Fullmetal Alchemist x 6
: Pride!Ed/Al, Lust!Roy/Riza (:D), Pride!Ed, Munich!Ed, AlxWinry, RoyxEd + 1 fanart of a fanfic (kid!Maes of </a></b></a>
rainjoyswriting
)
Avatar: the Last Airbender x 4: TophxAang (3)

Preview: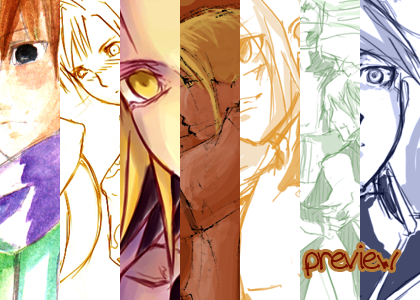 Link leads to an
image-heavy
entry in my journal
here.
Crossposted to
fma_art
.