Do you guys know where these pictures come from? @_@ If you do please tell me!

The one up there is not from Ready Steady Go, because Ready Steady Go's looks like this...

I think this one has something to do with Dream Carnival but I am not sure...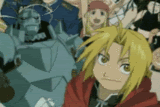 Thanks in advance!
Edit: Solved! Thanks to kasumicc!
http://youtube.com/watch?v=Y2_klhnDeZ0