The latest batch is now here, get 'em while their hot! :D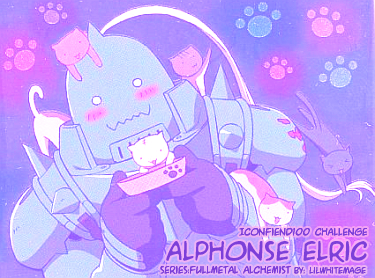 Artist:
lilwhitemage
Pairing/Character: Alphonse Elric (Fullmetal Alchemist)
Theme(s): #2.Forgiveness, #14.Rain, #18.So Far Away, #40.Hold My Hand, #46.Silk, #60.Artist's Choice-Armor Rape!, #61.Artist's Choice-Knight in Shining Armor
# of icons in post: 7
# of icons completed total: 34/100
Credits on icon post.
Sneak Peak!

Please remember to read the rules posted there as well.
Lead the way momma
x-posted here and there...