a clean opening?
FMA has a creditless opening on Adult Swim. no wonder it looked so weird.
[edit]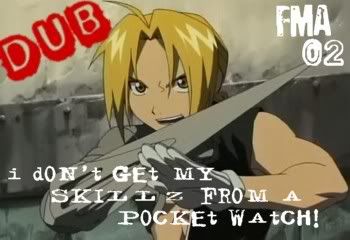 I think I'm starting to adjust to the voices. If only Vic Whatshisname spoke a little differently, he wouldn't make that bad of an Ed.
Alphonse needs acting lessons.
I like Al's little monologue on the Truth of Equivilant Trade at the end. it was well spoken, made more sense than any of FUNi's other akwardly worded explanations.
And even though it was cut short, I'm glad they kept the origional ending. ^^
[/edit]