Apparently I have no life today and was rewatching episode 6, pausing around where everyone was throwing a huge hissy fit about *GASP* THE EDIT.

I am not here to complain or whatever (I actually don't care too much either way), but to give an easy-to-follow comparison.




This is the original shot. You can see that Edward's punched his fist into his palm in frustration. Thanks to
xkesshoux for the screencap!

Here comes the fun part! Note that I took these with a digital camera so that's why the quality is really weird.

OH! I'M FRUSTRATED!



The hands come together....



Fingers interlock...



Ladies and gentlemen, we have ourselves an Edward who looks like he is praying.



So....let's compare.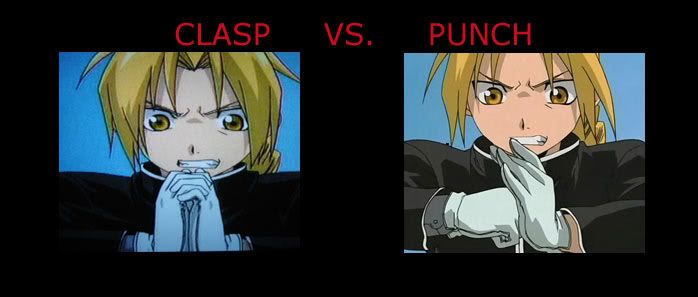 Theories:
1) BONES did the editing
1a) to clarify the clappy alchemy
1b) to fill in what could be "a plothole" in the original IF we theorize that Edward can only do clappy alchemy by clapping instead of bringing his two hands together.

2)FUNi did it for some strange reason we don't know. (NOTE: Mike, one of the two directors of the dub had nothing to do with it. His theories are that it was either edited by FUNi after the voice tracks were recorded or AS did it.)

3)Adult Swim did it because slamming a fist into a palm is some strange offensive gesture (when Majihal getting SKEWERED by a sword isn't and was still PG?)

In any case, I wonder why no one redid Haruko's ear after half of it got shot off in episode 5.





I am done. =D

EDIT 2
daidoujisan has confirmed it! The culprit is BONES! FUNi and Adult Swim....you're free to go. For now.