A friend from my anime club got a random FMA can item. Yes, a can. Something about item being dented and a big discount on it along with whatever else he was ordering at the time. He's not as fond of Hughes as he knows me to be, so he gave it to me! XD So cool! (He also gave me his SpazzedAngry!Ed phone strappy thingie from the FMA set he bought at Anime Reactor. I love my pissed off Ed! I just wish my phone had a spot to attach it to it. T_T It's not FAIR!)
Anyways, here's my Hughes-in-a-Can pictures: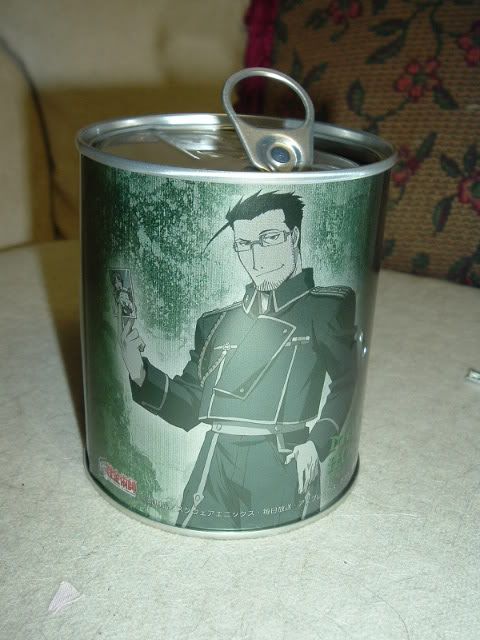 BEHOLD! The CAN!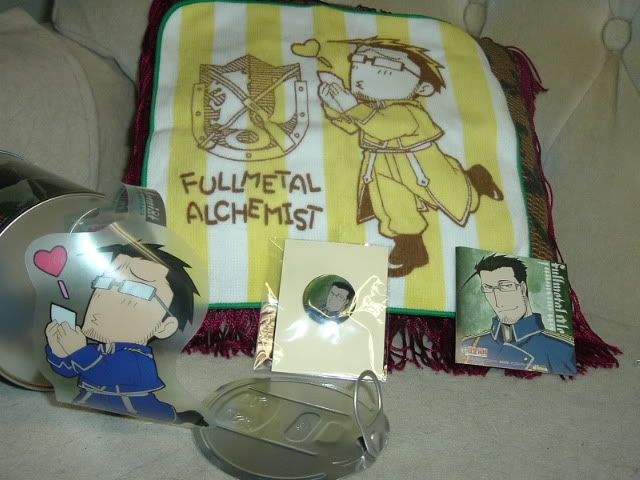 BEHOLD! The contents!
A washclothe, a shirt pin, a sticker, and a suction cup window cling chibi thingie. XD Cute! I love them!
And here's other pictures of THE CAN!
The bottom of the plastic wrapper
In it's protective plastic wrapper!
The can turned to see Hughes' hand holding Elysia's picture. =3
If I had spending money, I'd ask where Joe got this so I could see what other characters they had. Hughes isn't my favorite character, but I still love him! Yay for big hearts! (And the inability to actually make up my mind!) I want a Moofy-in-a-can. An Al-in-a-can would be too ironic for me to keep a straight face... XD *just had a crack thought* Barry-in-a-Can! *borrows Riza's gun and shoots self*
Current Mood:
crazy
Current Music: Akane's Baka Song - Ranma1/2