And you know that Saturday means, yes? More FMA on [adult swim] tonight! Yay!
I'm going to lurk in the chatroom, the AIM room "FMAdub" all day most likely. And speaking of the dub, I emailed Vic Mignognawhatever (Someday I'll remember how to spell his last name)--English Ed voice--and got a reply today. So I'll share!
(
"Hi there, Zrana!
First of all, thank you so much for your kind words on FMA. I am so crazy about this series and count it an extreme privilege to work on it. I have seen Romi's wonderful performance as well (thru #48) and, while I don't sound like her, I hope the fans will like what I'm doiing with the role. The gratifying thing is that the Japanese creators like my voice for Ed....they wanted him to have a bit more weight and male quality to his voice. Believe me, I even thought I should play him a bit younger, but they like it where it is. However let me say this....the show just gets better and better. I really felt like I settled into the character around episode 5 or 6. So if you are liking it so far, I think you will really be more comfortable with it by then.
I hope to see you at a con this year sometime! I intend to do alot more now that FMA is in full swing. And then there's DN Angel, Peacemaker, etc.
Part two this Saturday...Cornello's gonna get his!! Keep in touch :)
vic"
For those interested, he'll be at Ohayocon in January (Columbus, Ohio). He's an amusing guy, I saw him at a panal in May before all the FMA dub business came up (only thing at the time was the fact FMA was licensed, but that's as far as things went at the time).
This isn't as cool as getting an email reply from Terry Pratchett, but it's still fun. n_n
)
I also drew a cute chibi. I started it as Anime Reactor but only got around to finishing it while I was bored out of my mind in Design class as the teacher went on and on about Contrast in design--he even complained and went "This isn't Drawing class, so put your drawings away." I was drawing to stay AWAKE! x.x
(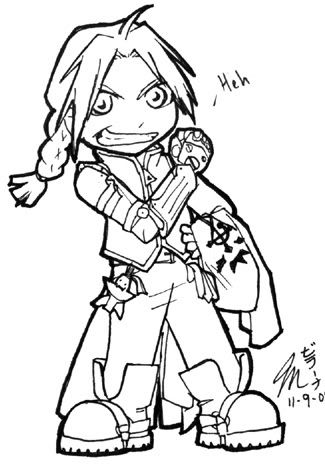 )
Current Mood:
silly
Current Music: i think it's Sanji from One Piece -- unlabeled MP3 ;_;